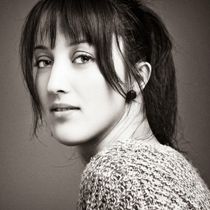 Aida
[Designer]
Aida
[Profile]
Aida Hanxhari was born in Durres, Albania and for the last few years has been living and working in Athens. The beautiful world of fashion and art has always been natural to Aida since her family worked as professional fashion stylers.
She graduated art at the school of "IoanniKoukouzeli" in Durres and soon afterwards moved to Athens and studied fashion design and styling at "INTERGRAPHICS" Institute of Professional Training.
In 2009 Aida took part in the "Young Creative Chevrolet" competition and won third place for the best creation in the Fashion Category. Not long after, in 2011 she participated in the April and October "Fashion Week" events, in Gazi, under the guidance of the well known designer DimitrisStrepkos. In the following years she took part in "Athens Xclusive Designers Week" with her fall/winter 2013-2014, her collection was inspired by the starry nightsand was called "MilkWay".
At Athens Xclusive Designers Week, Aida is presenting for the second consecutive year in a row, her new collection AiDA spring-summer 2014 that has a touch of freshness based on femininity and romanticism with elements derived from the turquoise colors of the Greek sea…!