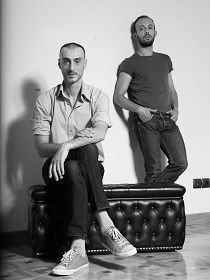 Maison Faliakos
[Designer]
Maison Faliakos
[Profile]
Establisher and mind behind our Fashion House was Costas Faliakos, a graduator from Ecole Guerre-Lavigne in Paris and a designer at Jacques Estelle & p. Balmain. Back in Greece, he creates his own Haute Couture spot at Kolonaki and from then his absolute goal was to remain a fighting believer at the unique concept of Haute Couture and its perfection.
Christos Petridis after of 10years of collaboration with Costas Faliakos took over the company in 2003 following his expressed will. In June 2004 he presented his first private Haute Couture collection with a great success. After this collection many successful Haute Couture collections followed till today.
When Christos Petridis met Venediktos Adipas immediately understood that he was the right person to pick up the reins in Prêt a Porter artistic direction, with his rebellious mind, his passion for the arts and his high level of aesthetic, was able to give a new vision in the house, helpfully under the patronage of Christos Petridis.
Is graduator from Veloudakis F.S. and Royal Academy of Arts in Antwerp.
Also, is design leader of startup company "Human Electric"