The winner of Fashion Design Project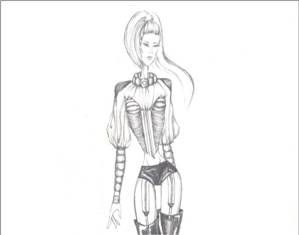 Athens, 14/01/2014
PRESS RELEASE
AXDW rewards one more new design talent: Stavrianna Georgiadis is the winner of the Fashion Design Project, voted through the public online voting!
After a month of online public voting for the open design contest Fashion Design Project of the 14th Athens Xclusive Designers Week, it has been completed, announcing the big winner Stavrianna Georgiadis, who gathered 1032 votes and won the 1st place among 46 candidate designs that were created by new talents during Athens fashion week!
Stavrianna is 21 years old, she studied at the school of design Plakas, in the department of Fashion Design of De Montfort University Of England, while finishing her studies in fashion at IEK AKMI. Her inspiration is considered to be the Greek Nature that shows off the great luxury of simplicity under the Apollonian light.
By conquering the 1st place in the voting of the Fashion Design Project, Stavrianna secured a place in the New Designers Awards of the 15th Athens Xclusive Designers Week, which will take place in the end of March, having the opportunity to present her work to the people of fashion and to the audience as well.
Athens Xclusive Designers Week has the pleasure to continue supporting the new design talents, to promote them, to award them and to offer them chances to show their work in order to conquer a place in the industry of fashion!
More information about the event are announced on the official website and on the fan pages of AXDW on social media:
www.axdw.gr facebook.com/axdweek twitter.com/AXDWeek youtube.com/AXDWeek instagram.com/axdweek pinterest.com/axdweek