The online voting contest for the Fashion Design Project of the 15th AXDW was completed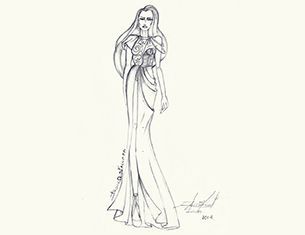 The online voting contest for the Fashion Design Project of the 15th AXDW was completed.
The Fashion Design Project of the 15th Athens Xclusive Designers Week announced as a winner Argiro Kalliafa. The online public voting lasted one month and the sketch of the new designer gathered 829 votes winning the 1st place among 40 sketches created by new talents during the Fashion Week of Athens!
Argiro Kalliafa was born in 1991 and raised in Mesologgi of Greece. At the age of 5 she had already decided that she wanted to become a fashion designer. In order to continue her dream she studied fashion design at AKTO while her first professional recognition came in 2010, on the second academic year of the college when she took part in an international contest of the company Triumph where her sketch was distinguished among the 25 best designs. Then, she worked as a fashion assistant on the Greek tv show "Eleni" and in 2012 she took part for the first time in AXDW with the brand streetGeAr. In 2013, she gained the trust of alarge company of women's clothing where she is working until today and she designs clothes next to the awarded designer Marina Avdeeva for the brands Benissimo, Coocu and So sexy.
By conquering the 1st place in the contest of the Fashion Design Project, Argiro secured a place in the New Designers Awards of the 16th Athens Xclusive Designers Week, which will take place in October, having the opportunity to present her work to the people of the fashion industry and to the public as well.
Athens Xclusive Designers Week through the New Designers Awards contest which is held every season continues to actively support new talents by rewarding them with important prizes but also giving them the opportunity to promote their work and claim a place in the fashion industry!
More information about AXDW can be found, through the website and other official pages on the social media:
www.axdw.gr facebook.com/axdweek twitter.com/AXDWeek youtube.com/AXDWeek instagram.com/axdweek pinterest.com/axdweek