Hair Styling Rehearsal by Syoss with the Designers of the 17th Athens Xclusive Designers Week!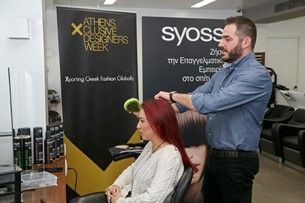 PRESS RELEASE
Athens, 24/3/2015
Only for fashion lovers : Hair Styling Rehearsal by Syoss with the Designers of the 17th Athens Xclusive Designers Week!
Syoss, the Official Hair Sponsor of the 17th AXDW participated in the official hair styling rehearsal which was held at Vassilis P. Diamantopoulos Hairstudio, with the designers and the models of the 17th fashion week Athens Xclusive Designers Week, which will take place from 28th to 30th March, at the Ethniki Asfalistiki Conference Center.
The Fashion Designers found at Syoss collection all the necessary products that they need for dynamic and totally fashionable looks. They discovered impressive hairstyles, with the help of the head hairdresser Vassilis Diamantopoulos, which will fit to their creations in a unique way!
Pony tails, sleek looks and romantic buns are some of the designers' choices of the 17th AXDW, which will definitely become the trends of the new season!
Syoss, which includes professional quality products in the categories of toiletries, styling and hair color, will take care of the Hair Styling during the catwalks.
Sponsors: Syoss, Collagen Pro-Active, Athenaeum InterContinental Athens
Make Up Sponsor: Erre Due
Supporters: Alpro,  Demak'up, Starbucks
Communications Sponsors: VOTRE BEAUTE, FOX LIFE, EN LEFKO 87.7, HIT 88.9, ATHENS VOICE, ADORE, TLIFE.GR, THETOC.GR, POPAGANDA.GR, HOPE
Partners: Veloudakis, Diamantopoulos, Freddy Make Up Stage, IAM Gourmet
Under the auspices: National Tourism Organization (EOT), Municipality of Athens  - Athens Development & Destination Management Agency (EATA), City of Athens - Cultural, Sports and Youth Organization, Enterprise Greece, Cyprus Embassy, Athens Chamber of Commercial and Industries (ACCI), Hellenic Retail Business Association (SELPE), Panhellenic Exporters Association (PSE), Federation of Industries on Northern Greece (SVVE), Greek International Business Association (SEVE), Hellenic Knitting & Apparel Industries (PSVPPE)
The Ethniki Asfalistiki Conference Centre is managed by the Athenaeum InterContinental Athens.
More details about the event are announced on the website and the official social media pages:
www.axdw.gr facebook.com/axdweek twitter.com/AXDWeek youtube.com/AXDWeek instagram.com/axdweek pinterest.com/axdweek