Greek accessories designers in the 19th AXDW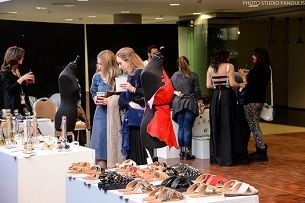 Athens, April 4th 2016
PRESS RELEASE
Greek accessories designers are in the 19th Athens Xclusive Designers Week, in the platform of Xclusive Elements
April 8th - 11th / Ethniki Asfalistiki Conference Center
Who said that fashion is just clothes? The Fashion Week of Athens, Athens Xclusive Designers Week welcomes for one more season Greek accessories designers in the platform of Xclusive Elements, offering an opportunity to express talent: Handmade jewelries, sandals and handbags, towels and unique accessories, are some of the treasures that the guests will discover in AXDW!
During 19th AXDW, from April 8th to 11th, in the Ethniki Asfalistiki Conference Center, in the foyer, a specially designed installation showcasing the collections of Greek designers of fashion accessories will be hosted, where the guests can do purchases on the spot enjoying the specially customized prices for the public for the audience of AXDW. The goal of AXDW is the platform that has been created for the Greek fashion designers, to be available to the creators of fashion accessories so as to be connected with media and the buyers, in and out of Greece.
The designers that will take part in the section Xclusive Elements are:
7pm by marina panagiotoulia: Marina Panagiotoulia inspired by human relationships, nature, human body and also the geometric cityscape, creates impressive jewelries combining childhood, femininity and elegance. After several experiments with different materials, she was impressed by the warmth, the feeling and the numerous skin color combinations of leather.
Art2wear - Rachil Andreadou Handmade with Buttons: With years of presence in the clothing field, Rahil Andreadou designs and manufactures jewelries with buttons all by herself. She prefers natural materials, she loves the bright colors, the frills, the ropes, the papers, matts and polka dots.
Dristela Handmade Creations: Sofia Dristela in 2005 started her carrier in TV as a stylist but she always had creative search within her soul, so she created her first collection from knitwear and jewelry.
E.T. Collection Creations by Elsa Toli: Elsa Toli, after 18 years of success in the fashion industry, wanted to express herself through the creation of handmade jewelry in order to create jewelry that accentuates female elegance inspired by the sea and the nature framing her life away from the capital.
Elissavet Maurogeni: Elissavet Maurogeni by studying architecture and decoration she turned out her hobby into job. From her childhood she designed and made her own clothes, handbags and jewelries and now she creates the beloved handbags with the characteristic bow that the audience has loved, among other accessories.
Miaou Niaou: Miaou Niaou brand is about to present humorous and subversive jewelry designs whose purpose is to tell their own abstract stories. The source of inspiration for designer Varvara Perraki is the present and memories, shadows and lights, the void and emotions, harmony and contrasts. Classic shapes, full or empty, tied together with stones are just some of the designer's experimentations. Squares knitted with thread tied together with memories of a loom, circles intertwined like our lives, triangles in the colors of our childhood old-fashioned sweaters...
Treis: Three friends with love and passion about fashion and more specifically the shoes and accessories, created a new brand with handmade sandals, scarves, bags and towels that turn into pareo. They are inspired by everything that is colorful, and many prints which have been used are inspired by children's coloring books. They use excellent materials, such as original snake skin in pastel shades, soft suede in various colors and natural skin with animal prints.
On the catwalk of 19th AXDW will be presented the collections of: .LAK Lakis Gavalas, Celebrity Skin, Elmira Begatti, Funky Buddha, Gio Sourgiadakis, Kathy Heyndels, Makis Tselios, Jaroszewska, Nikos - Takis, Notis Panagiotou, Panos Apergis, Tassos Mitropoulos, Topshop by Sotris
23 new designers show their F/W 2016-2017 collections in New Designers Awards: Andry Anastasiou, Chloe Moumbaris, Chris & Tonia, Christina Teligiannidou, Euphrosyne Vlassi, Fotini Lgk, Joy Koumentakou I madebyjk, Maria Vytinidou Luxury Handwoven Design Brand, Maro Martzh, MK by Marios, Penelope Demetriou, TLΓΔ,  Valia Kaσtrouny. The day will end with the fashion school of AthensFashionClub Fashion School presenting creations of its students in a group catwalk.
AXDW opens the doors to everyone who feels that has talent in design, and invites them to take part in the open design competition Fashion Design Project, regardless of profession and education, compete for a place in Young Designers of next event, by «winning» the votes of public through the open online voting. So as to take part, the candidates can go online in www.axdw.gr, in the tab Fashion Design Project.
Makeup Sponsor: Erre Due Hair Sponsor: René Furterer - Ilias & Staff Salons Supporters: MediPrinou, Jacobs Flavours, bfresh spitiko
Hospitality Sponsor: Athenaeum InterContinental Athens Communications Sponsors: MAD TV, MAD RADIO 106.2, EN LEFKO 87.7, VOTRE BEAUTE, TLIFE.GR, FASHION DAILY, HOPE, EPILOGES, SOCIAL, FASHIONUNITED, FASHIONWEEKWEB
Partners: So Fine! Communications Management, Discover Greece, Hairdressing school Diamantopoulos, Freddy MakeUp Stage, IEK AKMI, Chef sto Spiti
Under the auspices: National Tourism Organization (EOT), Enterprise Greece, Municipality of Athens  - Athens Development & Destination Management Agency (EATA), City of Athens - Cultural, Sports and Youth Organization, Cyprus Embassy, Embassy of Polish Republic, Athens Chamber of Commercial and Industries (ACCI), Athens Traders Association (ESTHA), Hellenic Retail Business Association (SELPE), Panhellenic Exporters Association (PSE), Federation of Industries on Northern Greece (SVVE), Greek International Business Association (SEVE), Hellenic Knitting & Apparel Industries (PSVPPE), Athens Chamber of Small and Medium Industries (ACSMI)
The Mansion of  Ethniki Asfalistiki is administered by the Athenaeum InterContinental Athens.
More details about the schedule of the event are announced on the website and the official pages on social media:  www.axdw.gr facebook.com/axdweek twitter.com/AXDWeek youtube.com/AXDWeek instagram.com/axdweek pinterest.com/axdweek