Fashion Design Project Winner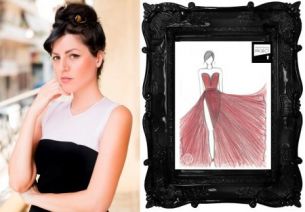 Athens, 30 August 2016
PRESS RELEASE
Athens Xclusive Designers Week emerges one more new designer through the competition Fashion Design Project
The online voting for the open fashion design competition Fashion Design Project of 19th Athens Xclusive Designers Week, completed successfully, highlighting the big winner: Vicky Panetsou won the first position gathering 1,342 votes of the public, among 43 new candidates that took part in the competition, during the Fashion Week of Athens last April.
Once again, the creativity and talent of the new artists stole the thunder of the audience, the response of which was more than warm, as more than 8,000 fans took part in the voting, supporting their effort, to the open online voting in the official facebook page of AXDW (axdweek)!
With the conquest of the first position in the voting of Fashion Design Project, the winner ensures participation in the New Designers Awards in the 20th Athens Xclusive Designers Week which will take place in October kai the opportunity to present her first collection in the audience and also to fashion experts, asserting awards of primary importance about her professional development!
Athens Xclusive Designers Week continues with joy and pride to highlight the new fashion designers, creating new opportunities for development and providing them significant promotion to present their work, through its integrated platform.
A few words for the winner
Vicky Panetsou is 30 years old and she lives in Thessaloniki. She wanted to occupy with the fashion design from a very young age. She attended fashion design and History of Art courses. Her inspiration is the theater and the cinema and over recent years she engaged in Digital Fashion Design.
More news for the organization announced on its website www.axdw.gr and to its official pages on the social media: facebook.com/axdweek, twitter.com/AXDWeek, youtube.com/AXDWeek,     instagram.com/axdweek, pinterest.com/axdweek