Fashion Design Project winner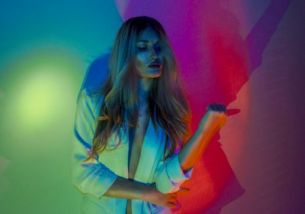 Athens, January 25th 2016
PRESS RELEASE
Athens Xclusive Designers Week: One more new designer emerges through the competition of Fashion Design Project of the Fashion Week of Athens
More than 10,000 fans took part in the online voting and highlighted this season's winner
With a new participation record was completed the online voting for the open fashion design competition Fashion Design Project of the 18th Athens Xclusive Designers Week, highlighting the big winner: Valia Kastrouni won the first position gathering 2,265 votes of the public, among 31 new candidates that took part in the competition, during the Fashion Week of Athens last October.
All the candidates did their best, releasing their creativity: Bright colors, all time classic and graceful lines and also avant garde inspirations are some of the elements that describe candidates' sketches, which for a month were open to online voting directly by the public in the official website of AXDW at facebook (axdweek).
The public response was greater than ever, as more than 10,000 fans took part in the voting, supporting for one more time the effort of the new creators who took part in the contest. Greek designers and fashion bloggers chose and shared their own favorite design by giving their valuable comments about candidate designers' creations and encouraging them for their next steps.
With the conquest of the first position in the voting of Fashion Design Project, the winner ensures participation in the New Designers Awards in the 19th Athens Xlcusive Designers Week which will take place in the spring and the opportunity to present her first collection in the audience and also to fashion experts, asserting awards of primary importance about her professional development.
Athens Xclusive Designers Week continues with joy and pride to highlight the new fashion designers, creating new opportunities for development and providing them significant promotion to present their work, through its integrated platform.
A few words about the winner:
Valia Kastrouni is 21 years old, she studies photography and audiovisual arts in the School of Graphic Arts and Art Studies in the Technological Educational Institution of Athens and she has attended a Fashion Design seminar in the Accademia di Belle Arti in Venice. Her love about art made her to occupy with the fashion design and to get expressed through it. Since 2013, she has her own fashion blog, Kashion Blog, through which she shares her personal stylistic choices and view about fashion. Her win in FDP is the first step that will bring her closer to her dream, which is her occupation with Fashion Design and Styling.
More details about the organization are released in her website and the officials websites in the social media:
www.axdw.gr facebook.com/axdweek twitter.com/AXDWeek youtube.com/AXDWeek instagram.com/axdweek pinterest.com/axdweek