Fashion Design Project: Who will be the next winner?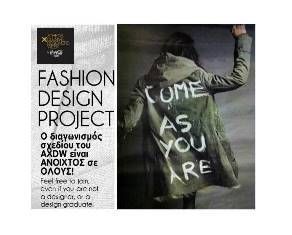 16th AXDW by Coca-Cola light invites you to participate in an open fashion design competition!
Don't hesitate to take part in the popular fashion design competition at the 16th Athens Xclusive Designers Week by Coca-Cola light that gives the chance to a talented designer to make their professional depute by participating in the New Designers Awards at the next event.
During the four day event, 10 contestants per hour will have to complete a design garment that represents their style in the time span of 60 minutes. A specially designed area, with all the necessary materials needed to create a drawing, design desk, pencils, rubbers etc will be formed exclusively for the new contestants!
In the completion anybody over the age of 18 can take part in, irrelevantly of their studies and profession. The people interested can apply for a spot through the official website of the event and afterwards they will be notified by AXDW by Coca-Cola light for the particular time and day where they will be able to take part in the competition. As well, if there is availability, people can register on the spot to take place in the design project during fashion week.
The designs that will be created during the four day event will be gathered and will be posted on a special application on the facebook page of AXDW, where they will be voted by the audience for the time scheme of one month! The creator of the design with the most votes will win a place in the New Designers Awards at the next AXDW.
6 simple steps to participate:
Enter axdw.gr
Press the tab Fashion Design Project
Fill in your details
You receive in your  e-mail by AXDW the day and time of your participation
You come to the Megaro Ethnikis Asphalistikis with your identification, the time and day given to you.
You give your best self and claim a place in the New Designers Awards for the next season!
The 16th Athens Xclusive Designers Week by Coca-Cola light will take place from the 24th of October until the 27th of October at the Conference Center Of Megaro Ethnikis Asphalistikis, presenting the new trends of fashion for the Spring/Summer 2015 season!
More details for the schedule of the event will be announced soon through the website and the other official pages of social media:
www.axdw.gr facebook.com/axdweek twitter.com/AXDWeek youtube.com/AXDWeek instagram.com/axdweek pinterest.com/axdweek