Fashion Design Project: Be the next AXDW New Designer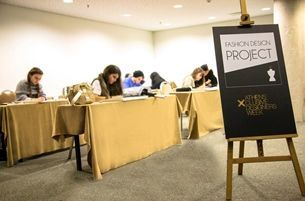 PRESS RELEASE
Fashion Design Project: Be the next AXDW New Designer
17th Athens Xclusive Designers Week invites you to participate in the open contest of fashion design, «Fashion Design Project»
Athens Xclusive Designers Week organizes for 4th consecutive time the open contest of fashion design, «Fashion Design Project» and gives the opportunity to new talents, regardless of their profession and studies, to compete for a place in New Designers Awards of next season.
During 17th AXDW, from 28 to 30 of March, periodically, 10 contestants must finish a fashion design sketch, in 60 minutes. A specially designed area, where with all the necessary tools to create their design like sketching tables, pencils, erasers, etc., will be created exclusively for the new participants!
Everyone over 18 years old can participate in the contest, regardless of profession and studies. The interested parties can register through the official website of the organization and further under confirmation with AXDW will be informed for the specific day and time, that will take part in the contest. Furthermore, one can register on the spot during the fashion week, upon availability.
The designs created during the 4 days will be uploaded after the end of the fashion week, on a special application on the official facebook fan page of AXDW (facebook.com/axdweek), where there will be a public vote for one month! The most voted designer will assure a participation in New Designers Awards of the next AXDW.
6 steps to participate:
Visit axdw.gr
Click on the tab Fashion Design Project
Fill in your personal info
Receive the confirmation of AXDW with the date and time of your participation
Visit Ethniki Asfalistiki Conference Center with your ID, the exact day and time of your participation
Give the best of you for a place in New Designers Awards of next season!
Winner of the Fashion Design Project of the 16th Athens Xclusive Designers Week last October, was Gogo Margariti that gathered 564 votes from the public and won the 1st place among 38 nominated fashion designs. With the winning of the 1st place in the voting process of Fashion Design Project, the winner ensured her participation in the New Designers Awards of 17th Athens Xclusive Designers Week and the opportunity to showcase, among senior newcomer designers, her first collection in the fashion crowd, claiming prestigious awards for her fashion career!
For first time, the voting process lasted for two months, due to the intense public response and high level of participation: More than 2,000 fans participated in the online voting on the official facebook fan page of AXDW (facebook.com/axdweek), supporting the effort of new designers that took part!
Highlight of this voting was that established Greek designers and fashion bloggers chose and shared their favorite design, giving their precious comments for the creations of the new talents.
17th Athens Xclusive Designers Week will take place from March 28th to 30th at Ethniki Asfalistiki Conference Center, presenting the new fashion trends for Autumn/Winter 2015-16.
More information about the program will be announced soon, through the website and other official sites on the social media:
www.axdw.gr facebook.com/axdweek twitter.com/AXDWeek youtube.com/AXDWeek instagram.com/axdweek pinterest.com/axdweek