Fashion Design Project: Be the next AXDW New Designer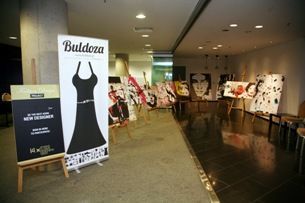 Fashion Design Project: Be the next AXDW New Designer
Are you talented in fashion design?
15th Athens Xclusive Designers Week invites you to participate in an innovative design contest for a place in New Designers Awards of October 2014!
After the impressive attendance of the 1st contest, Athens Xclusive Designers Week for the 2nd time organizes a design contest open to public, which will give the chance to a talented designer to participate in New Designers Awards of the next organization. AXDW always believing in natural talent, gives the opportunity to anyone who loves fashion and design to compete and distinguish!
During the 4 days of the event, every hour, 10 contestants must create a fashion outfit design, representative of their design style and talent, in 60 minutes in a especially designed spot of the organization, an "atelier" of creation, set like a school of design with available all materials to create their design: tables, pencils, rubbers and all the necessary materials!
In the contest, everyone over 18 years old can participate regardless of study and profession. The contestants will register in the official website of the organization and will set an appointment for a specific time and date during the 4 days of the event, upon confirmation from AXDW, while someone can register on the spot during the fashion week, upon availability.
The designs which will be created during the 4 days will be uploaded after the end of the organization, in a special application in the official fan page of AXDW, where there will be a public vote for one month! The designer with the most votes will assure a participation in New Designers Awards of the next AXDW.
6 steps to participate:
Visit axdw.gr
Go to the tab Fashion Design Project
Fill in your data
Receive the confirmation of AXDW with the date and time of your participation
Visit Ethniki Asfalistiki Conference Center with your ID, the exact day and time of your participation
Give the best of yourself for a place in New Designers Awards of next season!
15th Athens Xclusive Designers Week will take place from 29th March til 1st April at Ethniki Asfalistiki Conference Center, presenting the new fashion trends of the new season!
More information about the program will be announced soon, through the website and other official sites of the social media:
www.axdw.gr facebook.com/axdweek twitter.com/AXDWeek youtube.com/AXDWeek instagram.com/axdweek pinterest.com/axdweek
Silver Sponsors: Kellogg's Special K, Collagen Pro-Active
Hair Sponsor: Toni & Guy
Make Up Sponsor: MAC
Hospitality Sponsor: Athenaeum InterContinental Athens
Communication Sponsors: OTE TV, Athens DeeJay, Rock FM, E - Kiriakatiki Eleftherotipia, enet.gr, Free Sunday, Like!, Deluxe, Adore, tlife, Hope, kool
Under the auspice of: GNTO - Greek National Tourism Organisation, HEPO - Hellenic Foreign Trade Board,  ADDMA - Athens Development and Destination Management Agency, HRBA - Hellenic Retail Business Association, FING - Federation of Industries of Northern Greece, PEA - Panhellenic Exporters Association, SEVE - Greek National Business Association, PATIKC - Pan-Hellenic Association of Trade and Industries of Knitted Clothes
Ethniki Asfalistiki Conference Center is managed by the Athenaeum InterContinental Athens.