DSQUARED2 Guests of Honour at the Fashion Week of Athens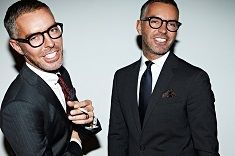 Athens, March 10, 2017
Press Release
DSQUARED2 Guests of Honour at the Fashion Week of Athens!
The 21st edition of Athens Xclusive Designers Week welcomes Dean & Dan Caten.
Athens Xclusive Designers Week is delighted to announce that DSQUARED2, will be attending the 21st edition of the Fashion Week of Athens as special guests, which will be held March 31st until April 3rd at Zappeion Hall.
Athens Xclusive Designers Week has the pleasure to host DSQUARED2 and Messers Dean & Dan Caten, founders and Creative Directors of the internationally renowned brand, to reveal a selection of unique pieces of their FW17/18 collection, in a special appearance at Zappeion Hall for the first time in Greece.
DSQUARED2 was founded in 1992 in Italy and in 1995 the designers presented their first men's collection. The presentation marked the debut of DSQUARED2's runway show extravaganzas, which captured the attention of journalists and buyers from around the world.
DSQUARED2's philosophy is an edgy mix of Canadian iconography, refined Italian tailoring and playful sensuality. The collections are a seamless melding of contrasts: sporty and glamorous, laidback and extravagant, masculine and feminine, creating a distinctive concept of alternative luxury. Recently the DSQUARED2 collections have gained a sophisticated edge while maintaining the sexiness embedded in the brand's DNA. Dean and Dan Caten divide their lives between Milan and London, and the Dsquared2 collections are produced in Italy, giving rise to the brand's motto of "Born in Canada, Living in London, Made in Italy".
For press enquiries:
Melina Koufakou, T. +30 210 9211013-4, mkoufakou@axdw.gr
Katerina Latsiou, T. +30 210 9211013-4, M. +30 6932450350, press@axdw.gr
About Athens Xlusive Designers Week
AXDW is the international fashion week of Athens, Greece, having realized 20 editions since 2007; founded with major objective the promotion of Greek contemporary and upcoming designers, in national but also global levels, and their bonding with the international fashion world. It is the only organization in Greece that up to date have participated more than 450 fashion designers, among which legendary fashion houses like Emanuel Ungaro, Vivienne Westwood, Barbara Bui, Guy Laroche, Ferraggamo, Escada, Cacharel and many others, whereas more than 20,000 visitors attend AXDW each season from the fashion, artistic, celebrity and business world, as well as national and international media representatives from tv, press, radio and online/ digital communication.
For more info please refer to:
www.axdw.gr facebook.com/axdweek twitter.com/AXDWeek youtube.com/AXDWeek instagram.com/axdweek pinterest.com/axdweek
Hashtags: #axdweek #celebrating10yearsoffashion #athensfashionweek #athensxclusivedesignersweek