AXDW Fashion Design Project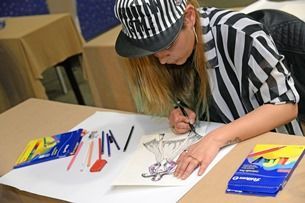 Athens, 5 May 2015
PRESS RELEASE
AXDW Fashion Design Project
The voting process started! Who will be the next winner?
67 designers are waiting your own opinion about the fashion sketch that they designed during the 17th Athens Xclusive Designers Week

The open to the public voting process for the famous fashion design contest, Fashion Design Project, which was held for the 4th time during Athens Xclusive Designers Week, has started! Through the special application on the official facebook page of AXDW (facebook.com/axdweek), the public can bring up the new talented designer, who will make his first step in the Greek fashion scene, participating as an emerging designer in New Designers Awards of 18th AXDW in October, among graduates and undergraduates of fashion studies.
You can visit the fanpage of AXDW on facebook and vote through the Fashion Design Project application (https://www.facebook.com/axdweek/app_208195102528120). You can vote more than one fashion sketches, with just a "like" on the image. The most voted designer will ensure the participation in the next event's New Designers Awards. The voting process for the next talent will be active until Sunday, 31st May 2015, therefore the designer who will gather the most votes of the public will be announced!
More information and details about the event are announced on the website and the official social media pages:
www.axdw.gr facebook.com/axdweek twitter.com/AXDWeek youtube.com/AXDWeek instagram.com/axdweek pinterest.com/axdweek