Athens Xclusive Designers Week seals its cooperation with Serbia Fashion Week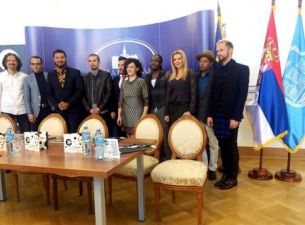 Αthens, 19th November 2015
PRESS RELEASE
Athens Xclusive Designers Week seals its cooperation with Serbia Fashion Week and secures the participation of Greek designers Kathy Heyndels & Marios Karavasilis, who impressed international Media & buyers on SFW's catwalk
Athens' international fashion week, Athens Xclusive Designers Week, seeking to expand upon its strategic international collaborations, guaranteed the participation of two Greek designers, fashion house Kathy Heyndels and winner of one of its New Designers awards Marios Karavasilis and his brand MK by Marios, in Serbia Fashion Week, which took place from the 9h until the 16th of November and played host to renowned names from the international fashion industry.
AXDW President, Tonia Fouseki, along with the aforementioned Greek designers, met during Serbia Fashion Week with Presidents of significant Fashion Weeks from around the world, such as New York, Washington, Canada, Malta, Los Angeles, Miami, Romania and Amsterdam, and discussed topics such as the trends of the fashion industry on a global scale and the potential for development of Greek designers into international markets. During the event Ms. Fouseki sealed the cooperation of AXDW and SFW by signing the cooperation protocol between the two of them during a special official ceremony in the city's town hall.
Representatives of international media, international buyers from Europe, America and Asia and distinguished personalities from the global fashion industry, attended the shows and were impressed by the creations of Greek designers and approached them, exchanging views about the international fashion scene and the extent of existing opportunity to develop one's talent abroad.
Renowned fashion house Kathy Heyndels, with head desinger Giannis Tongos, presented the collection Geometrical Figures featuring creations in black, grey and white, most of which in leather. Marios Karavasilis, designer of MK by Marios brand, presented the collection METHEXIS, including unique creations and impressive headpieces.
Tonia Fouseki stated the following: "We thank Serbia Fashion Week wholeheartedly and especially the event's President, Svetlana Horvat, for their warm hospitality and I wish for the start of a fruitful and creative collaboration. I would like to congratulate fashion house Kathy Heyndels and MK by Marios, who represented our country worthily by presenting their special collections and distinguishing themselves, thereby proving that through their creativity and professionalism, Greek designers can develop and find meaningful opportunity in the global fashion market. Our collaboration with Serbia Fashion Week is yet another success for AXDW and its international networking that has been developed since 2007, strengthening the position of Athens Fashion Week as a platform for promoting Greek fashion and talent abroad to international markets, that aims to developing their commercial value further, but also representing Greece worldwide."
More details about the event are announced through its website and official pages on social media:
www.axdw.gr facebook.com/axdweek twitter.com/AXDWeek youtube.com/AXDWeek instagram.com/axdweek pinterest.com/axdweek