19th AXDW-Save-the-Date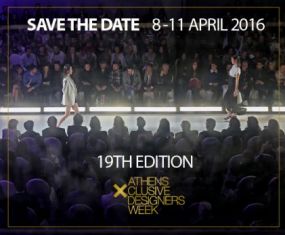 Save-The-Date
19η Athens Xclusive Designers Week
April 8th - 11th 2016
Fall/Winter 2016 - 2017
Athens Xclusive Designers Week, Athens Fashion Week, will hold its 19th event from 8-11 of April 2016, presenting collections of Greek and International designers and fashion brands, for the season Fall/Winter 2016-2017.
New collaborations with international buyers, designers, international fashion weeks and media representatives, enrich AXDW's 360ο network, who continues its effort on Greek fashion's extroversion and the Greek designers' development at the global fashion stage.
At the same time, Athens Fashion Week, for one more season, organizes the established competition for the New Designers Awards, in order to give prominence to new talents, who will claim important awards for their next steps in fashion.
However, the opportunities for the talents are not over yet: During all days of the event, the open competition Fashion Design Project will take place, where anyone who feels talented in fashion sketch, regardless of his studies, can submit a personal design which will be evaluated by the audience through online voting on AXDW facebook page.
Furthermore, Greek accessories designers, have their own place in AXDW: The Xclusive Elements platform, created by AXDW in a specially designed and designated area, gives the opportunity to   designers of jewelries, shoes, scarves, hats, bags, sunglasses and more accessories, to exhibit their current product lines during all days of the event, and the chance to connect with the media and the buying audience, by demonstrating the Greek creativity in practice.
New trends signed by big fashion names, international guests, parallel fashion events and happenings, fresh ideas and of course new talents complete the 19th AXDW.
For Further details and information for the AXDW:
www.axdw.gr
facebook.com/axdweek twitter.com/AXDWeek youtube.com/AXDWeek instagram.com/axdweek pinterest.com/axdweek