19th AXDW_Designers line up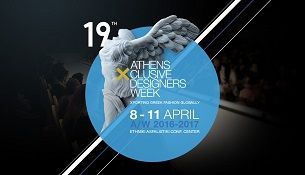 Athens, March 22nd 2016
PRESS RELEASE
19th Athens Xclusive Designers Week
Discover the designers & the fashion brands that will give the pulse in Fashion Week in Athens!
April 8th - 11th / Ethniki Asfalistiki Conference Center
The international Fashion Week of Athens, Athens Xclusive Designers Week announces with great pleasure the participant designers and the fashion brands from Greece and abroad that will present their collections for the season Fall/ Winter 2016-2017, from 8 to 11 of April, at the Conference Center of Ethniki Asfalistiki.
25 fashion shows, well-known fashion brands & accessories creators showrooms, happenings, design competitions, international guests, live DJ sets and 1 New Designers Awards ceremony compose the 19th Fashion Week of Athens!
The catwalk of 19th AXDW will welcome:
.LAK Lakis Gavalas, Celebrity Skin, Funky Buddhα, Gio Sourgiadakis, Jaroszewska, Kathy Heyndels,
Makis Tselios, Notis Panagiotou, Panos Apergis, Tassos Mitropoulos, TOPSHOP by Sotris
On the third day of 19th AXDW 23 new designers will present their collections of F/W 2016-2017 by participating in the established institution of New Designers Awards, which 10 years now promotes and rewards young talents:
Andry Anastasiou, AthensFashionClub Fashion School, Chloe Moumbaris, Chris & Tonia, Christina Teligiannidou, Euphrosyne Vlassi, Fotini Lgk, Joy Koumentakou I madebyjk, Maria Vytinidou Luxury Handwoven Design Brand, Maro Martzh, MK by Marios, Penelope Demetriou, TLΓΔ,  Valia Kaσtrouny,
The 19th AXDW accommodates for one more season also interesting side events for all days of the fashion week that will impress the guests:
-       Xclusive Elements: AXDW, faithful to its vision to promote to the maximum the Greek creativity, presents also this season the Xclusive Elements, a specially designed installation for Greek fashion accessories creators, that they will have the opportunity to present representative codes of their collections, and associate with the media and the buying public of AXDW!
-       Fashion Design Project: Everyone who believes that has talent in design can take part in the open design competition Fashion Design Project, regardless of profession and studies and compete for a place in Young Designers of next event, by «winning» the votes of public through the open online voting. So as to take part, the candidates can go online in www.axdw.gr, in the tab Fashion Design Project.
Makeup Sponsor: Erre Due Hair Sponsor: Furterer, Ilias & Staff Salons Supporters: MediPrinou, Jacobs Flavours, bfresh spitiko
Hospitality Sponsor: Athenaeum InterContinental Athens Communications Sponsors: MAD TV, MAD RADIO 106.2, EN LEFKO 87.7, VOTRE BEAUTE, TLIFE.GR, FASHION DAILY, HOPE, EPILOGES, SOCIAL, FASHIONUNITED, FASHIONWEEKWEB
Partners: So Fine! Communications Management, Diamantopoulos Academy, Freddy MakeUp Stage, IEK AKMI, Chef sto Spiti
Under the auspices: National Tourism Organization (EOT), Enterprise Greece, Municipality of Athens  - Athens Development & Destination Management Agency (EATA), City of Athens - Cultural, Sports and Youth Organization, Cyprus Embassy, Embassy of Polish Republic, Athens Chamber of Commercial and Industries (ACCI), Hellenic Retail Business Association (SELPE), Panhellenic Exporters Association (PSE), Federation of Industries on Northern Greece (SVVE), Greek International Business Association (SEVE), Hellenic Knitting & Apparel Industries (PSVPPE), Athens Chamber of Small and Medium Industries (ACSMI)
Ethniki Asfalistiki Concerence Center is under the management of the Athenaeum InterContinental Athens.
More details about the schedule of the event are announced on the website and the official pages on social media:  www.axdw.gr facebook.com/axdweek twitter.com/AXDWeek youtube.com/AXDWeek instagram.com/axdweek pinterest.com/axdweek
For more information for the journalists: Katerina Liatsou, 210 92 11 013-4, 693 24 50 350, press@axdw.gr