18th AXDW announces designers line up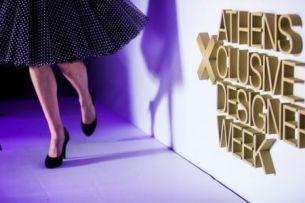 Athens, October 5th 2015
PRESS RELEASE
18th Athens Xclusive Designers Week announces designers line up
The new fashion trends signed by 41 fashion designers and brands from Greece and abroad
23 - 26 October 2015/ Ethniki Asfalistiki Conference Center, Athens, Greece
Athens Xclusive Designers Week (AXDW), the international fashion week for  Athens, presents the new fashion trends for Spring - Summer of 2016, through the creations of more than 40 established and upcoming designers from both Greece and abroad, from the 23rd until the 26th of October 2015 at Ethniki Asfalistiki Conference Center, in Athens, Greece.
AXDW continues, for the 18th time, to pave the way for the development and promotion of the Greek fashion scene both within and outside local borders, despite ongoing difficulties endured in Greece, by investing in collaborations with international partners, media and buyers and therefore providing a comprehensive platform of communication between the audience and fashion executives aiming to the development of Greek creative talent. This year, AXDW managed to enlist the participation of the largest fashion showroom representing international fashion brands in Asia, Danube Fashion Office (DFO). Danube Fashion Office is set to make its appearance for the first time in Greece, solely for the purpose of the 18th AXDW, with the intention of developing partnerships with Greek clothes and accessories designers.
23 fashion shows, showrooms, displays, happenings, design contests, international guests and 12 new talented designers making their debut during the Athens fashion week are sure to keep guests captivated during the 4-day AXDW event.
Amongst the designers who will be participating, AXDW has invited two very important Serbian designers to present their new collections. Catwalk designer participants for the 18th AXDW are:
Atelier Loukia, Boško Jakovljević, Dimitrios Ordoulidis, Eleni Kyriacou, Gio Sourgiadakis, Gogo by Stalo, Kathy Heyndels, La Vue, Leon, Loukia Kyriakou, Marcello Nyktas, Panos Apergis, Rita Pateroni, SOMF, Tassos Mitropoulos, Vasilije Kovačev, Vassilis Zoulias
Αthens Xclusive Designers Week in recognition of the importance of accessories & styling on a fashion look and in accordance to the vision of the organization to represent in the best possible way the creative industry of the Greek fashion scene, has created a section so as to host the Greek fashion accessories designers, as well, in each seasonal event, Xclusive Elements. The goal of AXDW is to give access of the platform that had been created so far for the Greek fashion designers as a tool to showcase their work to the designers of different categories of fashion accessories, as well, so as to offer them the opportunity to connect with the media and buyers, both local and international, coming to the event.
Thus, more than 20,000 guests will have the opportunity to find key codes from the collections of Greek accessories designers, and also purchase at special pricing with discounts set forward exclusively for AXDW attendants! Designers taking part in the Xclusive Elements section of the 18th AXDW are:
ARCHtrend by Lena Kalidis, E.T. Collection Creations by Elsa Toli, Eireen, Lamprini, Maesa Morado, Mιάου Νιάου, My scarf, Rubee Handmade, 7pm, Sophia Koutsoukou
AXDW's third day is reserved for the New Designers Awards institution, which has been highlighting and rewarding new talent for 9 consecutive years. 12 new designers will present their S/S 2016 collections and will compete for three distinctions: Best Designer, Best Trendsetter and Best Catwalk. The New Designers taking part in the contest are:
Blondie.e, Chris & Tonia, Demis Araniadis, JK by Joy Koumentakou, Mal-le by Aggeliki Maleviti, Maria Vytinidou, Marω Martzh, Nella Ioannou, Parle Moi, Penelope Demetriou, Persephone, Tryfonas Modestou
The day will commence with group catwalks by AKTO Art & Design College and AthensFashioClub Fashion School, presented and created by their students.
For the duration of the event, AXDW welcomes the advances of anyone that has confidence in their designing skills and encourages them to participate in the open Fashion Design Project design contest, regardless of occupation and education, to compete for a spot in the next event's New Designers branch by amassing the public's majority vote through an online selection process on its facebook page. In order to participate, candidates can navigate to www.axdw.gr and visit the Fashion Design Project tab.
KYANA Professional Hair Products, the official hair sponsor for the 18th AXDW, is a 100% Greek-owned company offering innovative suggestions for professional hairdressing products, as well as a wide variety of products suitable to every hair style and type. During the 18th AXDW visitors will have a chance to get acclimated with both the health and beauty benefits of Collagen Pro-Active, the collagen drink representing the latest breakthrough in innovation.
The de-make up care of the models of the 18th AXDW's catwalks will be taken up by the specialized DEMAK'UP products. All guests will have the opportunity to enjoy the cleansing care and learn some tips by the Make Up Artist of DEMAK'UP who will take care of their new make up in a special stand in the venue.
18th Athens Xclusive Designers Week..... See you on the catwalk!
Sponsors: KYANA Professional Hair Products, Collagen Pro-Active, Athenaeum InterContinental Athens
Supporters: Demak'up
Communications Sponsors: MAD TV, MAD RADIO 106.2, EN LEFKO 87.7, VOTRE BEAUTE, ADORE, ΕΛΕΥΘΕΡΟΣ ΤΥΠΟΣ, THETOC.GR, TLIFE.GR, SAVOIR VILLE, FASHION DAILY, HOPE, IEFIMERIDA.GR, POPAGANDA.GR
Partners: So Fine! Communications Management, Diamantopoulos, Freddy Make Up Stage, THEIA Lab
Under the auspices: National Tourism Organization (EOT), Municipality of Athens  - Athens Development & Destination Management Agency (EATA), City of Athens - Cultural, Sports and Youth Organization, Enterprise Greece, Cyprus Embassy, Athens Chamber of Commercial and Industries (ACCI), Hellenic Retail Business Association (SELPE), Panhellenic Exporters Association (PSE), Federation of Industries on Northern Greece (SVVE), Greek International Business Association (SEVE), Hellenic Knitting & Apparel Industries (PSVPPE), Athens Chamber of Small and Medium Industries (ACSMI)
The Ethniki Asfalistiki Conference Centre is managed by the Athenaeum InterContinental Athens.
More details about the event are announced on the website and the official social media pages:
www.axdw.gr facebook.com/axdweek twitter.com/AXDWeek youtube.com/AXDWeek instagram.com/axdweek pinterest.com/axdweek
For further information about the journalists:
Katerina Liatsou, 210 92 11 013-4, 693 24 50 350, press@axdw.gr