18th Athens Xclusive Designers Week - Xclusive Elements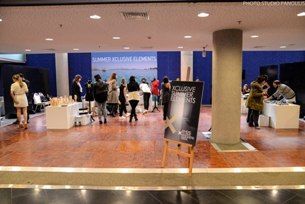 PRESS RELEASE
18η Athens Xclusive Designers Week
Xclusive Elements: New trends in fashion accessories on the forefront of Athens Fashion Week
23rd - 26th October / Ethniki Asfalistiki Hall
Athens Xclusive Designers Week in recognition of the importance of accessories in fashion and in accordance to its vision of representing as best as possible the creativity the Greek fashion scene entails, plays host for the 2nd time to a showroom especially made up for Greek accessory designers, Xclusive Elements. Greek designers have created their own trends in the accessory department, a fact Athens Fashion Week cannot overlook.
During the 18th AXDW, from the 23rd to the 26th of October, Ethniki Asfalistiki Hall's foyer will play guest to an especially designed installation turned showcase in order to demonstrate representative accessory merchandise of the hottest brands and Greek accessory designers, whereby guests will have the opportunity to make on-the-spot purchases taking advantage of especially drawn prices for AXDW's audience. In doing so, AXDW aims at making the platform it has created for Greek fashion designers accessible to fashion accessory designers in order to assist them in reaching the media and buying public, within and outside the borders of Greece.
Designers taking part in the Xclusive Elements section will be: ARCHtrend by Lena Kalidis, E.T. Collection Creations by Elsa Toli, Eireen, Lamprini Chantziara, Maesa Morado, ΜΙάου Νιάου, My Scarf, Rubee Handmade, 7pm by marina panagiotoulia, Sophia Koutsoukou
Archtrend by Lena Kalidis (jewelry): Lena Kalidis, who is an architect, decorator and artist, creates handmade jewels, "Archtrend" - architectural fashion trend - based on Greek materials (driftwood, metal, acrylic, silicone, laces, semiprecious stones) and elements from Greek tradition (knitted patterns, fabric, leather), thereby maintaining a modern and timeless aesthetic. It all begins with "INCEPTION". Simplicity and complexity, monochrome and chromatic printing, romanticism and rock are characteristics of her creations, which can be worn at any hour of the day with any style.
E.T. Collection Creations by Elsa Toli (jewelry): Elsa Toli, after 18 years of success in the fashion industry, wanted to express herself through the creation of handmade jewelry in order to manufacture jewelry that accentuates female elegance all through the day. Her inspiration was the sea and nature that frame her life away from the capital.
Eireen (scarves): Designer Eirini Papagiannopoulou, driven by her love for Greece, creates silk scarves made from Greek silk. EIREEN is a concept meant to promote Greece and the commodities it produces. Following serious thought, the designer chose silk originating exclusively from Soufli that softly touches the body, senses and soul. At the same time she chose the Trojan horse as a symbol, referencing thusly the mental acumen and relentless spirit of the Greek population when facing adversity.
Lamprini Chantziara (jewelry): In early 2010 Lamprini Chantziara created her first personal collection of jewelry, and ever since she has been manufacturing imaginative jewelry sold globally, while at the same time taking place in numerous international exhibitions abroad. For her handmade creations, Lamprini follows an innovative design procedure and a unique mix of modern and traditional elements that combine various techniques and materials, such as yarn, metallic chains, Swarovski crystals and semiprecious stones.
Maesa Morado (jewelry): Interior design architect Maria Lantavou first began experimenting with various materials in 2008, which led her to an undiscovered, until then, product category, WDP (Wearable Design Piece). By reversing the place where we focus our attention - regarding our appearance - Maesa Morado creations place jewelry and accessories back in the center of attention, as ancient civilizations did. In 2015 the designer was awarded with the 1st "Commercial & Architecture" and the "Innovations in Retail & Leisure Architecture" awards from sector British magazine "BUILD".
Miaou Niaou (jewelry): Miaou Niaou brand is about to present humorous and subversive jewelry designs whose purpose is to tell their own abstract stories by utilizing materials, colors and shapes. The source of inspiration for designer Varvara Perraki is the present and memories, shadows and light, the void and emotions, harmony and contrasts. Classic shapes, full or empty, tied together with stones are just some of the designer's experimentations. Squares knitted with thread tied together with memories of a loom, circles intertwined like our lives, triangles in the colors of our childhood old-fashioned sweaters...
My Scarf (scarves): Maria Geroula's wish is to create basic items, closely connected with the concept of country, thereby approaching Greece as fashion, art and colors. Since 2011 she has began manufacturing scarves, pareo, pashminas and t-shirts using Greek raw materials, which become a storytelling and communications medium that incorporate distinct design and print elements. Her conviction is that aesthetics are always fashionable and not a seasonal trend. Just a touch is enough to highlight one's personal style every day.
Rubee Handmade (bags etc.): The idea behind Rubee Handmade was born in 2012 when architect Anna Tsatsouli, being passionate about fashion and knitting, created her first knitted handbag! Rubee's collection includes a large range of colors and a selection of high-quality threads, which combine traditional knitting techniques with modern design methods. In recent years, her design palette has expanded to include swimsuits, tops, shorts, neck scarves etc.
7pm by marina panagiotoulia (jewelry): Marina Panagiotoulia, in response to her childhood affection for colors, constructs and art, went on to study at VAKALO Art & Design College's Applied Arts School. Drawing inspiration from human relationships, nature, the human body and the geometric urban landscape she creates impressive jewelry that combine childhood, femininity and elegance. After numerous experimentations with various materials, she was won over by the warmth, feel and limitless color combinations of leather.
Sophia Koutsoukou (jewelry): Designer Sofia Koutsoukou, by drawing inspiration from nature's subtle beauty, graphic design, modern architecture and ancient Greece, goes on to create unique jewelry, which impress through their simplicity. The entirety of her creations are handmade and utilize traditional techniques of casting metal in a mold, lost wax with silver as material which she gilds with yellow or pink gold and black platinum, and combines with ribbons, threads, chains, pearls and beads.
Presenting their new collections on the 18th AXDW's catwalk will be: Atelier Loukia, Boško Jakovljević, Dimitrios Ordoulidis, Eleni Kyriacou, Gio Sourgiadakis, Gogo by Stalo, Kathy Heyndels, LaVUE, Leon, Loukia Kyriakou, Marcello Nyktas, Panos Apergis, Rita Pateroni, SOMF, Tassos Mitropoulos, Vasilije Kovačev, Vassilis Zoulias.
AXDW's third day is reserved for the New Designers Awards institution, which has been highlighting and rewarding new talent for 9 consecutive years. The 3 awards will be contested by 12 new designers that will be presenting their S/S 2016 collections: Blondie.e, Chris & Tonia, Demis Araniadis, Joy Koumentakou | madebyJK, Mal-le by Aggeliki Maleviti, Maria Vytinidou, Marω Martzη, Nella Ioannou, Parle Moi, Penelope Demetriou, Persephone, Tryfonas Modestou. The day will commence with group catwalks by AKTO Art & Design College and AthensFashionClub Fashion School, presented and created by their students.
For the duration of the event, AXDW welcomes the advances of anyone that has confidence in their designing skills and encourages them to participate in the open Fashion Design Project design contest, regardless of occupation and education, to compete for a spot in the next event's New Designers branch by amassing the public's majority vote through an online selection process. In order to participate, candidates can navigate to www.axdw.gr and visit the Fashion Design Project tab.
KYANA Professional Hair Products, the official hair sponsor for the 18th AXDW, is a 100% Greek-owned company offering innovative suggestions for professional hairdressing products, as well as a wide variety of products suitable to every hair style. During the 18th AXDW visitors will have a chance to get acclimated with both the health and beauty benefits of Collagen Pro-Active, the collagen drink representing the latest breakthrough in innovation! Supervision of makeup cleansing of the 18th AXDW's models will be undertaken by specialized products DEMAK'UP, which reserve a surprise for the event's guests. At a designated stand within the area our guests will have the opportunity to receive makeup cleansing treatment and professional tips and secrets from DEMAK'UP's Make Up Artist, who will also be responsible for their consequent makeup, in accordance to a makeup look from one of AXDW's designer fashion shows. Present during the 18th AXDW will also be MEDIPrinou, renowned for their high standard of quality in health and beauty services. Guests will also be able to enjoy Jacobs Flavours filter coffee throughout the days of the event at the central bar located in the foyer.
Sponsors: KYANA Professional Hair Products, Collagen Pro-Active, Athenaeum InterContinental Athens
Supporters: Demak'up, MEDIPrinou, Jacobs Flavours
Communications Sponsors: MAD TV, MAD RADIO 106.2, EN LEFKO 87.7, VOTRE BEAUTE, EPILOGES, ELEFTHEROS TYPOS, THETOC.GR, TLIFE.GR, SAVOIR VILLE, FASHION DAILY, HOPE, IEFIMERIDA.GR, POPAGANDA.GR
Partners: So Fine! Communications Management, Diamantopoulos, Freddy Make Up Stage, THEIA Lab
Under the auspices: National Tourism Organization (EOT), Municipality of Athens  - Athens Development & Destination Management Agency (EATA), City of Athens - Cultural, Sports and Youth Organization, Enterprise Greece, Cyprus Embassy, Athens Chamber of Commercial and Industries (ACCI), Hellenic Retail Business Association (SELPE), Panhellenic Exporters Association (PSE), Federation of Industries on Northern Greece (SVVE), Greek International Business Association (SEVE), Hellenic Knitting & Apparel Industries (PSVPPE), Athens Chamber of Small and Medium Industries (ACSMI)
Ethniki Asfalistiki Hall is under the management of Athenaeum InterContinental Athens.
More details about the event are announced through its website and official pages on social media:
www.axdw.gr facebook.com/axdweek twitter.com/AXDWeek youtube.com/AXDWeek instagram.com/axdweek pinterest.com/axdweek
For more information concerning journalists:
Katerina Liatsou, 210 92 11 013-4, 693 24 50 350, press@axdw.gr