18th Athens Xclusive Designers Week : Catwalks schedule / 23rd – 26th October / Ethniki Asfalistiki Hall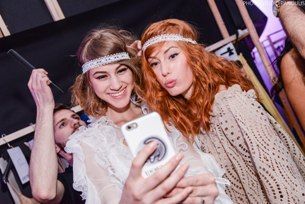 PRESS RELEASE
18th Athens Xclusive Designers Week
Discover the designers collections presented on the catwalk of Athens Fashion Week
Catwalks schedule / 23rd - 26th October / Ethniki Asfalistiki Hall
The day is drawing nearer for the 18th exhibition of Athens' Fashion Week, Athens Xclusive Designers Week (AXDW), where fashion designers from both Greece and abroad will showcase their collections along with new trends that will be worn over the next months: From 23rd to 26th of October stunning creations, original digital prints, modern suits, casual chic outfits and elegant dresses will be on the forefront of the 18th AXDW's catwalk sporting a feeling of Spring and Summer.
Basic information about the collections to be presented on the catwalk:
-          Loukia, who has established herself within the Greek fashion industry, will be presenting creations of romantic character from the collection "Jasmine", with see through garments, as their basic element. The main theme will be the fragile and transparent beauty of young women who also maintain their strength and individuality.
-          For the first time ever, guest designer Boško Jakovljević from Serbia, a socialite in his country and known for his modern menswear collections will be attending along with his new collection.
-          Dimitrios Ordoulidis, winner of 17th AXDW's New Designer Awards will present his first complete collection titled "Sexual Abstract (Regenerate Desire)". The most fundamental elements of this collection for women are androgynous style coupled with female details and minimal creations for men.
-          Eleni Kyriacou, of Cypriot descent, will be presenting her S/S 2016 collection titled "12 Greek Rectangles". For this collection Eleni drew inspiration from ancient Greek attire, the use of rectangles in it and the design of polymorphic clothes, which can be converted from a simple dress to a beach towel.
-          Instigator of fashion brands Gio.S and Me and My, Gio Sourgiadakis is about to present suits that are both modern and timeless, accompanied by accessories that highlight the masculinity of men that want to distinguish themselves through style.
-          Fashion brand Gogo by Stalo, a result of the cooperation between Cypriot Stalo Elia and Gogo Mastrokosta, will be presenting easy-to-wear creations that combine sex appeal with elegance.
-          Renowned fashion house Kathy Heyndels will present their "Geometrical Figures" collection, comprising of creations featuring the house's signature tone that draw inspiration from geometric shapes that highlight the female figure.
-          New fashion brand LaVue makes its debut in AXDW's catwalk, featuring men's outfits in straight lines, thus depicting a linear representation of everyday life in white, black and grey color. LaVue doesn't just mean sight, but also point of view; a brand made for men that are fed up with boring and predictable items, much like the brand's ambassador Nikos NiVo Vourliotis.
-          Leon, a designer that took his first steps in AXDW's New Designer Awards, is about to present his first complete collection at the 18th AXDW's catwalk. His S/S collection, "SCORPIO", draws inspiration from Greek tycoon Aristotelis Onasis' homonym island and all the impressive women that came through it.
-          Cypriot designer, Loukia Kyriakou, who lives and works in London, will be presenting her "Moroccan Nights in Africa" collection, inspired from the style of Moroccan women. Creations of white made from luxury fabrics and unique wedding gowns will take us on a journey to that exotic location.
-          Our beloved designer Marcello Nyktas is back at AXDW's catwalk with an impressive collection titled "Rock Couture". Unique creations that combine leather, fringes, fur details, transparencies, modern pleats, animal prints and rock details signal the famous designer's return to the catwalk.
-          Panos Apergis presents his new S/S 2016 collection featuring unique digital print, geometric patterns and light fabrics. His collection is complemented by accessories manufactured from industrial and ethnic materials.
-          Fashion house Rita Pateroni maintains femininity and true elegance as basic elements of its collections. Pure minimalism combines with romanticism to present unforgettable creations for the new season.
-          Popular brand SOMF presents the summer 2016 collection of SOMF, Beach Goth designed by Mariaflora Lehec and inspired by California's music festivals and the scenery of the Greek Aegean islands. Intense primary print colors mix with laces of laser cut elements to create a modern sensationalism that aspires to eliminate age restrictions and project the independent, expressive character of next summer's Somfette. Participation in the 18th Athens Xclusive Designer Week is carried out in collaboration with Stokke, one of the top companies in the child stroller and furniture industry, and will be presented in combination with 3 of their flagship strollers Xplory, blending motherhood with style.
-          Impressive dresses, notable trousers, elegant coats and black and grey suits with leather and fur details constitute the collection of Tassos Mitropoulos.
-          Vasilije Kovačev, one of Serbia's leading designers and event guest within the context of AXDW's international collaborations, is about to present notable, unique creations with transparencies, tulle fabrics and sequins.
-          "Women in Mykonos through the decades" is the name of the Resort Spring/Summer 2016 collection about to be presented by the one and only Vassilis Zoulias. His favorite summer destination, Mykonos, constitutes the fundamental source of his inspiration and combines in a unique manner women's' style choices from the glamorous '30s and the cosmopolitan '90s, transforming them, as always, into timeless creations that accentuate every woman's femininity.
For the entire duration of the event, Athens Xclusive Designers Week has set up at the foyer an area specifically made to host Greek accessories designers, a section called Xclusive Elements, where guests will have the opportunity to make purchases taking advantage of especially drawn prices for AXDW's audience, and of course, get to know the accessories collections of Archtrend by Lena Kalidis, E.T. Collection Creations by Elsa Toli, Eireen, Lamprini Chantziara, Maesa Morado, Miaou Niaou, My Scarf, Rubee Handmade, 7PM by Maria Panagiotoulia, Sophia Koutsoukou. AXDW's third day is reserved for the New Designers Awards institution, which has been highlighting and rewarding new talent for 9 consecutive years. The 3 awards will be contested by 12 new designers that will be presenting their S/S 2016 collections: Blondie.e, Chris & Tonia, Demis Araniadis, Joy Koumentakou | madebyJK, Mal-le by Aggeliki Maleviti, Maria Vytinidou, Marω Martzη, Nella Ioannou, Parle Moi, Penelope Demetriou, Persephone, Tryfonas Modestou. The day will commence with group catwalks by AKTO Art & Design College and AthensFashionClub Fashion School, presented and created by their students.
For the duration of the event, AXDW welcomes anyone that has confidence in their designing skills and encourages them to participate in the open Fashion Design Project design contest, regardless of occupation and education, to compete for a spot in the next event's New Designers Awards by amassing the public's majority vote through an online selection process. In order to participate, candidates can navigate to www.axdw.gr and visit the Fashion Design Project tab.
KYANA Professional Hair Products, the official hair sponsor for the 18th AXDW, is a 100% Greek-owned company offering innovative suggestions for professional hairdressing products, as well as a wide variety of products suitable to every hair style and type. During the 18th AXDW visitors will have a chance to get acclimated with both the health and beauty benefits of Collagen Pro-Active, the collagen drink representing the latest breakthrough in innovation.
The de-make up care of the models of the 18th AXDW's catwalks will be taken up by the specialized DEMAK'UP products. All guests will have the opportunity to enjoy the cleansing care and learn some tips by the Make Up Artist of DEMAK'UP who will take care of their new make up in a special stand in the venue.
Following is the detailed schedule of the 18th Athens Xclusive Designers Week
Friday 23rd October 2015
17:30 - ELENI KYRIACOU
18:30 - VASILIJE KOVACEV
19:30 - LEON
20:30 - BOSKO JAKOVLJEVIC
21:30 - KATHY HEYNDELS
Saturday 24th October 2015
16:30 - MARCELLO NYKTAS
17:30 - LOUKIA KYRIAKOU
18:30 - GIO SOURGIADAKIS
19:30 - TASSOS MITROPOULOS
20:30 - SOMF
21:30 - VASSILIS ZOULIAS (Athenaeum InterContinental Athens)
Sunday 25th October 2015 - NEW DESIGNERS DAY
16:00 - AKTO ART & DESIGN COLLEGE
17:00 - ATHENSFASHIONCLUB FASHION SCHOOL
17:30 - MARIA VYTINIDOU / PERSEPHONE / PARLE MOI
18:30 - PENELOPE DEMETRIOU / MAL-LE BY AGGELIKI MALEVITI / MADEBYJK
19:30 - BLONDIE.E / MARΩ MARTZΗ / CHRIS & TONIA
20:30 - TRYFONAS MODESTOU / NELLA IOANNOU / DEMIS ARANIADIS
21:30 - DIMITRIOS ORDOULIDIS
22:00 - NEW DESIGNERS AWARDS
Monday 26th October 2015
17:30 - RITA PATERONI
18:30 - GOGO BY STALO
19:30 - LA VUE
20:30 - PANOS APERGIS
21:30 - ATELIER LOUKIA
18th Athens Xclusive Designers Week..... See you on the catwalk!
Sponsors: KYANA Professional Hair Products, Collagen Pro-Active, Athenaeum InterContinental Athens
Supporters: Demak'up
Communications Sponsors: MAD TV, MAD RADIO 106.2, EN LEFKO 87.7, VOTRE BEAUTE, ADORE, ΕΛΕΥΘΕΡΟΣ ΤΥΠΟΣ, THETOC.GR, TLIFE.GR, SAVOIR VILLE, FASHION DAILY, HOPE, IEFIMERIDA.GR, POPAGANDA.GR
Partners: So Fine! Communications Management, Diamantopoulos, Freddy Make Up Stage, THEIA Lab
Under the auspices: National Tourism Organization (EOT), Municipality of Athens  - Athens Development & Destination Management Agency (EATA), City of Athens - Cultural, Sports and Youth Organization, Enterprise Greece, Cyprus Embassy, Athens Chamber of Commercial and Industries (ACCI), Hellenic Retail Business Association (SELPE), Panhellenic Exporters Association (PSE), Federation of Industries on Northern Greece (SVVE), Greek International Business Association (SEVE), Hellenic Knitting & Apparel Industries (PSVPPE), Athens Chamber of Small and Medium Industries (ACSMI)
The Ethniki Asfalistiki Conference Centre is managed by the Athenaeum InterContinental Athens.
More details about the event are announced on the website and the official social media pages:
www.axdw.gr facebook.com/axdweek twitter.com/AXDWeek youtube.com/AXDWeek instagram.com/axdweek pinterest.com/axdweek
For further information for the journalists:
Katerina Liatsou, 210 92 11 013-4, 693 24 50 350, press@axdw.gr