18th Athens Xclusive Designers Week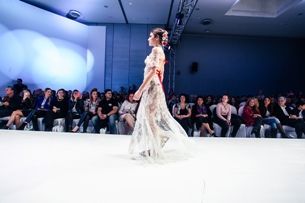 PRESS RELEASE
Fashion, new talents, and stylish international guests at the spotlight of
the 18th Athens Xclusive Designers Week
41 designers and fashion brands from Greece and abroad presented the new fashion trends
18th Athens Xclusive Designers Week, conducted at the Ethniki Asfalistiki Conference Hall, came to an end with impressive collections, international guests, plenty of new talents and dashing appearances. 41 designers and fashion brands from Greece and abroad, as well as 12 highly promising new designers presented the new fashion trends to the thousands of guests that attended Athens Xclusive Designers Week.
AXDW, being of international caliber, hosted this year guests from the global fashion industry: International buyers, amongst which Danube Fashion Office, Asia's biggest Fashion Showroom, bloggers and journalists of international media and the President of Serbia Fashion Week, one of AXDW's collaborating fashion weeks, Ms. Svetlana Horvat attended AXDW throughout the 4 days of the event.
Cypriot designer Eleni Kyriacou revealed her S/S 2016 collection titled "12 Greek Rectangles". Inspired from ancient Greek attire and the use of rectangles within it, she presented polymorphic creations in the shades of purple, bright green and dark red color, which can be converted from dress to beach towel.
One of the most important Serbian designers, Vasilije Kovačev, a guest of AXDW, presented his unique and original male and female creations that impressed the audience with tulle, sequins and linen fabrics.
Leon, presented his first complete collection titled "SCORPIO". This S/S 2016 collection included male and female creations in bright colors, characteristic lines and cuts, accompanied by impressive handmade sunglasses and head pieces.
Boško Jakovljević, event's guest designer and one of the most famous Serbian TV hosts, presented male, modern suits, jackets, t-shirts and shirts impressed the audience while props sporting positive messages in Greek livened the stage with color. Bosko's creations were accompanied by Sony's h.ear on unique headphones in deep shades ranging from blue, viridian, deep red, grey, lime yellow to pink-burgundy, suitable for every personality type. Guests of the 18th AXDW had the opportunity, throughout all event days, to familiarize themselves with h.ear on headphones, that combine bold design with a comfortable experience and invite us to live a stylish life!
Renowned fashion house Kathy Heyndels presented their "Geometrical Figures" collection. The head designer, Giannis Tongos presented creations in his trademark style, with frugal lines that accentuate every woman's femininity.
Renowned designer Marcello Niktas made his comeback on the AXDW catwalk, presenting his unique and exciting collection "Rock Couture". Female transparencies, fur details, impressive leather jackets and animal prints wowed the audience.
Cypriot designer Loukia Kyriakou presented her collection titled "Casablanca" including white ethereal creations inspired by Morocco and one-of-a-kind wedding gowns that filled the catwalk room with light.
Gio Sourgiadakis, instigator of fashion brands Gio.S and Me and My, presented modern and timeless suits in daring chromatic combinations coupled with accessories that accentuate the style of those who make them their choice.
Tassos Mitropoulos presented exciting ethereal women's dresses with particular cuts in white, red and black color. The disruptive designer's creations were made complete by unique leather and fur details.
Fashion brand SOMF presented its S/S 2016 summer collection titled "Beach Goth", designed by Mariaflora Lehec. The intense primary print colors coupled with laser cut laces manifested into a modern sensationalism, thereby eliminating solar restrictions and showcasing the independent, expressive character of Somfette for the next summer. Participation in the 18th Athens Xclusive Designer Week is carried out in collaboration with Stokke, one of the top companies in the child stroller and furniture industry, and will be presented in combination with 3 of their flagship Xplory strollers, blending motherhood with style. On Saturday the 24th of October, Stokke who is world-renowned for its unique design, showcased on the front row of all fashion exhibitions 30 of its trademark Tripp Trapp chairs.
The one and only Vassilis Zoulias, presented the Resort Spring/Summer 2016 collection "Women in Mykonos through the decades". Having been inspired by his favorite summer destination, Mykonos, he managed to uniquely combine the style choices of women from the glamorous 30's up until the cosmopolitan 90's and, presenting timeless creations. His unique outfits were accompanied by hair styles that accentuated the style of every decade, made possible by the team of Diamantopoulos School.
Renowned fashion house Rita Pateroni presented its S/S 2016 collection with mainly pastel-colored creations. Among the main elements of the collection were checkered fabrics in light blue, pink and white color, as well as lovely laces that gave off a distinct romantic feel.
Fashion brand Gogo by Stalo, presented evening wear centered around the color black and lines that accentuate the female form.
Newly-conceived fashion brand LaVUE presented men's outfits in straight lines and white, black and grey colors. LaVUE is a brand made for men that separate themselves from boring and predictable clothing, just like the brand's ambassador, Nikos NiVo Vourliots. In promoting a street mentality, hip hop artists appeared on the catwalk while we even got to see a different, female version of LaVUE presented by women.
Beloved designer Panos Apergis managed to impress yet again with his unique creations. His S/S 2016 collection included digital prints, geometric patrons and light fabrics. The show's finale included wonderful caftans and the famous designer chose Scholl's wooden footwear in the colors of beige and floral to complete his summer look. In regard to jewelry for the show, Panos Apergis went with handmade jewelry of ARCHtrend by Lena Kalidis, who also took part in this year's AXDW Xclusive Elements section, a partnership that manifested within the context of idea exchange that AXDW provides.
Renowned personality of the Greek fashion industry, Loukia, presented romantic creations from the "Jasmine" collection. Transparencies, pastel colors, flowers, laces and light fabrics contributed in creating a unique atmosphere during the show while the hair style, which was accompanied by flowers woven into the models' hair, took us all on a fairytale ride.
Furthermore, 12 new talented designers presented their suggestions on the 18th AXDW's catwalk: Maria Vytinidou, Persephone, Parle Moi, Penelope Demetriou, Mal-le by Aggeliki Maleviti, Joy Koumentakou I madebyJK, Blondie.e, Maro Martzy, Chris & Tonia, Tryfonas Modestou, Nella Ioannou, Demis Araniadis. The new designers impressed the audience and the judges panel of the institution of the New Designers Awards, claiming very important awards: Best New Designer, Best Trendsetter, Best Catwalk and Best Fashion Design Ambassador, which was bestowed, honoring the AXDW, Mr. Aris Spiliotopoulos.
Shortly before the anticipated moment of awarding the New Designers Awards, winner of the 17th AXDW's Best New Designer Award, Dimitrios Ordoulidis, presented his first complete collection titled "Sexual Abstract (regenerate desire)" with minimal creations for men and androgynous style, and feminine details for women with basic shades of grey and blue.
Once more, significant representatives from the fashion industry graced the exhibition with their participation in the judge's panel: Efi Alevizou, director of the new women's site of THE TOC DIGITAL Group, Katerina Gouma, owner and designer of "Underground" label stores in Athens and Mykonos, Evi Karatza, who has extensive experience in the fashion industry and women's magazines and owner and creative director of Evi Grintela brand, Ioanna Kourbela, a talented fashion designer enjoying success as much within Greece as abroad, Marina Burry-Christellou and Myrto Mitropoulou, founders of MONO Project, "moving" fashion concept store in London, Ioli Fotopoulou, owner of Pop Up Store and founder of Universal Consciousness Apparel brand.
Athens Xclusive Designers Week President, Tonia Fouseki, during her speech, congratulated all participants for their effort and presentations and encouraged them to always dream and pursue their ambitions. She then made reference to the support AXDW has offered towards New Designers since its inception and the furthering of contact with international media and buyers around the world strengthening the notion of "made in Greece" fashion, in synergy with carriers that support extroversion and the apparel industry.
Winners of New Designers Awards of the 18th AXDW emerged the following:
Best Fashion Design Ambassador and Best New Designer awards were claimed by Parle Moi brand of designer Tamara in presenting a collection with black and white creations accompanied by impressive head pieces. The Best Fashion Design Ambassador award equates to the assurance of participation of the designer in a Fashion Week abroad, for the bestowal of which honorary guest, former Minister for Tourism Development, Minister for National Education and Religious Affairs and current Consultant for Tourism Development for the municipality of Athens, Mr. Aris Spiliotopoulos was called upon. During his speech, he congratulated all participating designers and the person responsible for organizing Athens Xclusive Designers Week, Ms. Tonia Fouseki, for the extraordinary effort put into promoting new talent, and also highlighted the fact that fashion is a form of culture and an expression of our own city, Athens, that should be receiving international attention through the fashion industry as well. The Best New Designer award equates to the production of a capsule collection by Underground label based on designs of the winner, which will be sold through its Underground boutiques and e-shop. In addition, the collection will be sampled in other boutiques in Greece and abroad and, in order to further promote the winner's capsule collection, a photo shoot from one of the best Greek fashion photographers will take place.
Best Trendsetter: Joy Koumentakou I madebyJK brought a pop art feeling to AXDW's catwalk in presenting her "POP GLAM" collection and, in doing so, impressed the judges. Comic book imagery and pop art symbols from the 60's filled the room. The presentation was made complete by guest appearance by Trifonas Samaras as a pop groom. The award equates to a presentation of the winner and her new collection in thetoc.gr.
Best Catwalk: Nella Ioannou took guests on a visual ride with ethereal creations in pastel colors, unique laces and feminine transparencies from her S/S 2016 collection titled "Once upon a time...", thusly giving the room a fairytale feel. The award equates to free-of-charge attending of seminars of her choice in fashion school Theia Lab. The bestowal of the award was carried out by Theia Lab Founder, Theodora Provopoulou, who congratulated the winner on her award and admirable effort.
A large crowd attended the Xclusive Elements section, an area especially set up to showcase Greek fashion accessory designers, where they had the opportunity to admire and purchase jewelry, scarves, handbags, pashminas and more by ARCHtrend by Lena Kalidis, E.T. Collection Creations by Elsa Toli, Eireen, Lamprini Chantziara, Maesa Morado, Miaou Niaou, My Scarf, Rubee Handmade, 7pm by marina panagiotoulia, Sophia Koutsoukou.
Conducted during all days of the event was the Fashion Design Project, the open design contest that gives a talented designer, that will be voted for by the public through Facebook, the opportunity to participate in the next New Designer Awards. 31 designs were submitted and will be put on public facebook vote shortly.

Additionally, for the entirety of the exhibition, guests can purchase modern fashion pieces, on the sport, from Pop Up Store's corner and from Universal Consciousness Apparel.
KYANA Professional Hair Products, the official hair sponsor for the 18th AXDW, is a 100% Greek-owned company offering innovative suggestions for professional hairdressing products, as well as a wide variety of products suitable to every hair style. During the 18th AXDW visitors has a chance to get acclimated with both the health and beauty benefits of Collagen Pro-Active, the collagen drink representing the latest breakthrough in innovation! Makeup for the shows was undertaken by Freddy Kalobratsos along with the team of school Freddy Make Up Stage, giving the final touch in the models' looks, while hair styling was done by Diamantopoulos school, led by Vassilis Diamantopoulos.
Supervision of demakeup cleansing of the 18th AXDW's models was undertaken by specialized products DEMAK'UP, which reserve a surprise for the event's guests. At a designated stand within the area our guests will have the opportunity to receive makeup cleansing treatment and professional tips and secrets from DEMAK'UP's Make Up Artist, who was also responsible for their consequent makeup, in accordance to a makeup look from one of AXDW's designer fashion shows. Present during the 18th AXDW was also MEDIPrinou, renowned for their high standard of quality in health and beauty services. Guests were able to enjoy Jacobs Flavours filter coffee throughout the days of the event at the central bar located in the foyer.
Sponsors: KYANA Professional Hair Products, Collagen Pro-Active, Athenaeum InterContinental Athens
Supporters: Demak'up, MEDIPrinou, Jacobs Flavours
Communications Sponsors: MAD TV, MAD RADIO 106.2, EN LEFKO 87.7, VOTRE BEAUTE, EPILOGES, ELEFTHEROS TYPOS, THETOC.GR, TLIFE.GR, SAVOIR VILLE, FASHION DAILY, HOPE, IEFIMERIDA.GR, POPAGANDA.GR
Partners: So Fine! Communications Management, Diamantopoulos Academy, Freddy Make Up Stage, THEIA Lab
Under the auspices: National Tourism Organization (EOT), Municipality of Athens  - Athens Development & Destination Management Agency (EATA), City of Athens - Cultural, Sports and Youth Organization, Enterprise Greece, Cyprus Embassy, Athens Chamber of Commercial and Industries (ACCI), Hellenic Retail Business Association (SELPE), Panhellenic Exporters Association (PSE), Federation of Industries on Northern Greece (SVVE), Greek International Business Association (SEVE), Hellenic Knitting & Apparel Industries (PSVPPE), Athens Chamber of Small of Medium Industries (ACSMI)
Ethniki Asfalistiki Hall is under the management of Athenaeum InterContinental Athens.
More details about the event are announced through its website and official pages on social media:
www.axdw.gr facebook.com/axdweek twitter.com/AXDWeek youtube.com/AXDWeek instagram.com/axdweek pinterest.com/axdweek
For more information concerning journalists:
Katerina Liatsou, 210 92 11 013-4, 693 24 50 350, press@axdw.gr