17th Athens Xclusive Designers Week -Save-the-Date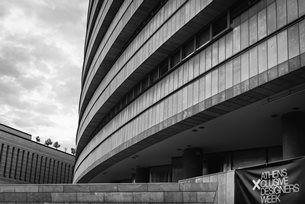 Athens, 04/02/2015
Save-The-Date
17th Athens Xclusive Designers Week
28 - 30 March 2015
Fall/Winter 2015 - 2016
Athens Xclusive Designers Week, the International Fashion Week of Athens Greece, welcomes the new trends for Autumn / Winter 2015 - 2016, at its 17th edition, taking place from 28 to March 30, 2015, at Ethniki Asfalistiki Conference Center.
Athens Xclusive Designers Week becomes for once more the meeting point and dialogue platform for the representatives of Greek and international fashion, bringing together the creators, the fashion industry and the public. Established and upcoming Greek and also foreign designers will present their collections before the eyes of journalists, buyers and entrepreneurs of fashion and apparel industry, through the 360º platform of AXDW. The forces of fashion are merging in AXDW, aiming to promote and develop Greek fashion in and out of national borders.
Through the continuous development of the international networking with key players of apparel industry in Greece and abroad, other international fashion events and representatives of international media and fashion markets, AXDW promotes the Greek fashion abroad.
Furthermore, a milestone of AXDW is the promotion and reward of young designers: AXDW since its inception, offers the opportunity to young fashion designers to present their work in the institution of New Designers Awards, claiming their place in the Greek fashion and also very important awards that will contribute to their future career. Moreover, through the Fashion Design Project, new talents regardless their studies and career background, have the opportunity to share their own fashion sketch with the public and claim its vote, which will assure their participation in the institution of New Designers Awards.
More information about the program of the 17th Athens Xclusive Designers Week will be announced shortly while all the news about the organization are available on the website and the official pages at social media:
facebook.com/axdweek twitter.com/AXDWeek youtube.com/AXDWeek instagram.com/axdweek pinterest.com/axdweek